Ecologica was conceived with the intention of creating a space that is in tune with nature. With earthy soft furnishings and an abundant use of natural materials such as wood and stone, Ecologica is a truly captivating environment.
- Superior Room with walk in shower
- Size 29m2
Bursting with local pride, Maltija is what you would expect when staying in a traditional Maltese townhouse. The room is styled with local furniture and framed with rustic Maltese motifs. The centrepiece of this room is undoubtedly a traditional Gallarija Maltija, the Maltese wooden gallery that adorns the facade of Palazzo Consiglia
- Deluxe Room with walk in shower
- Size 27m2
Nautica has been inspired by the crystal clear waters that surround the Maltese Islands. Guest can expect cool colours in this room, with grey printed wallpaper that provide a clean and fresh ambience. Expect to be transported to a sand dune amongst reeds with this exquisite print, which will definitely inspire our guests to visit the beach during their stay in Malta.
- Superior Room with walk in shower
- Size 20m2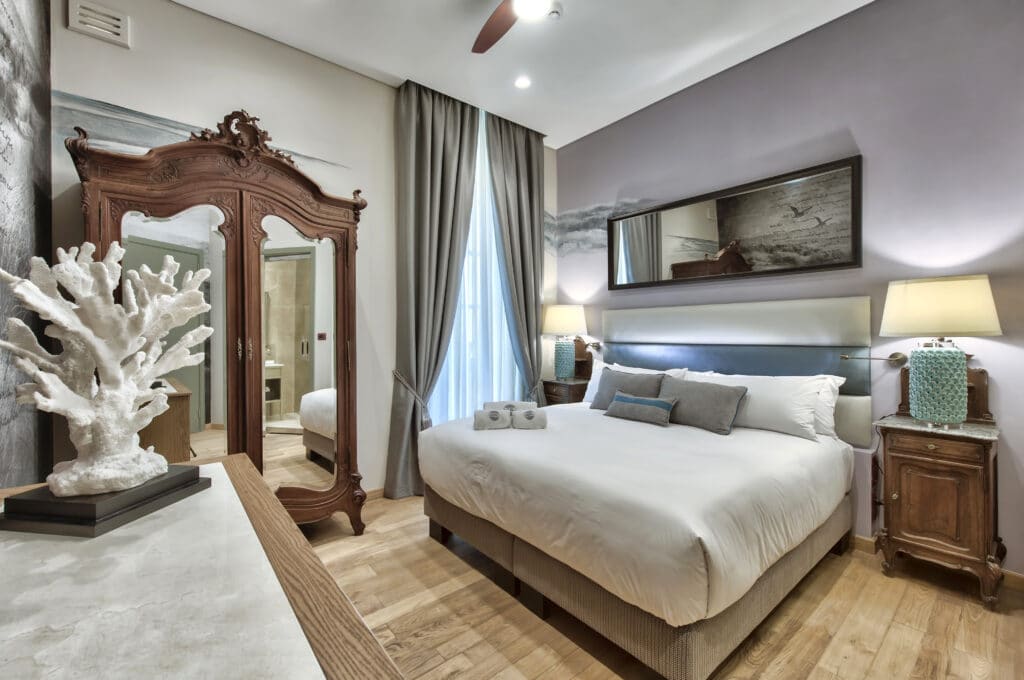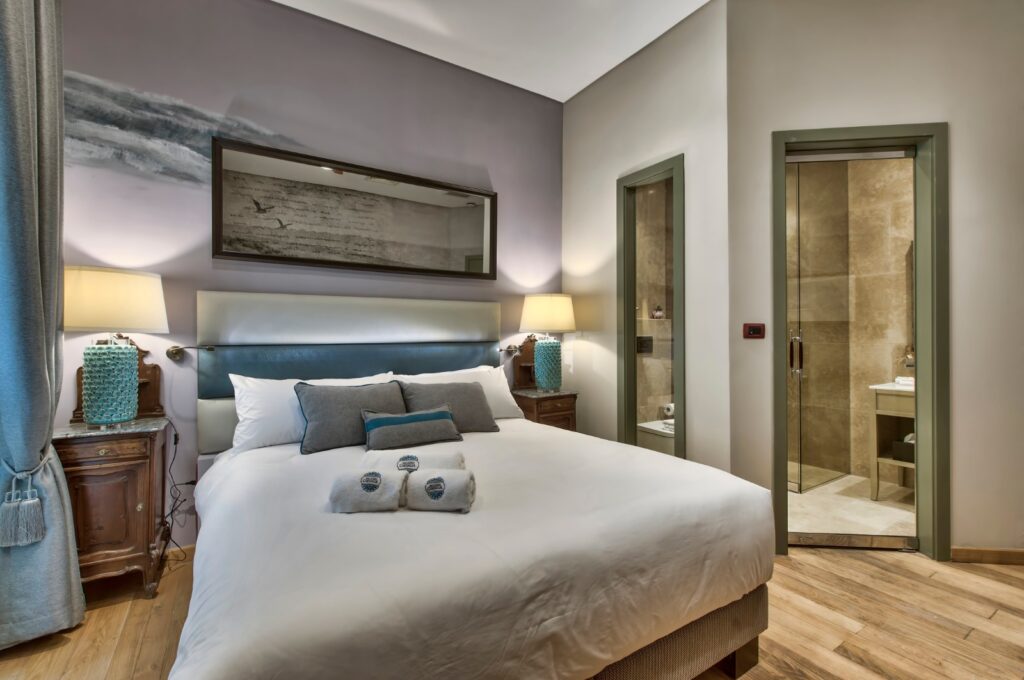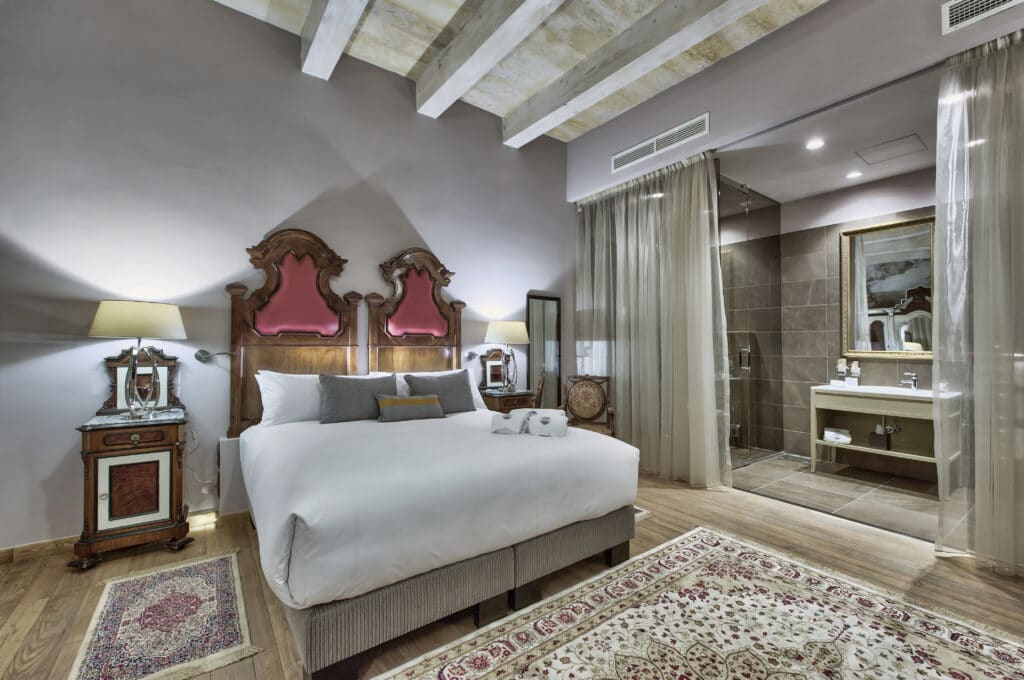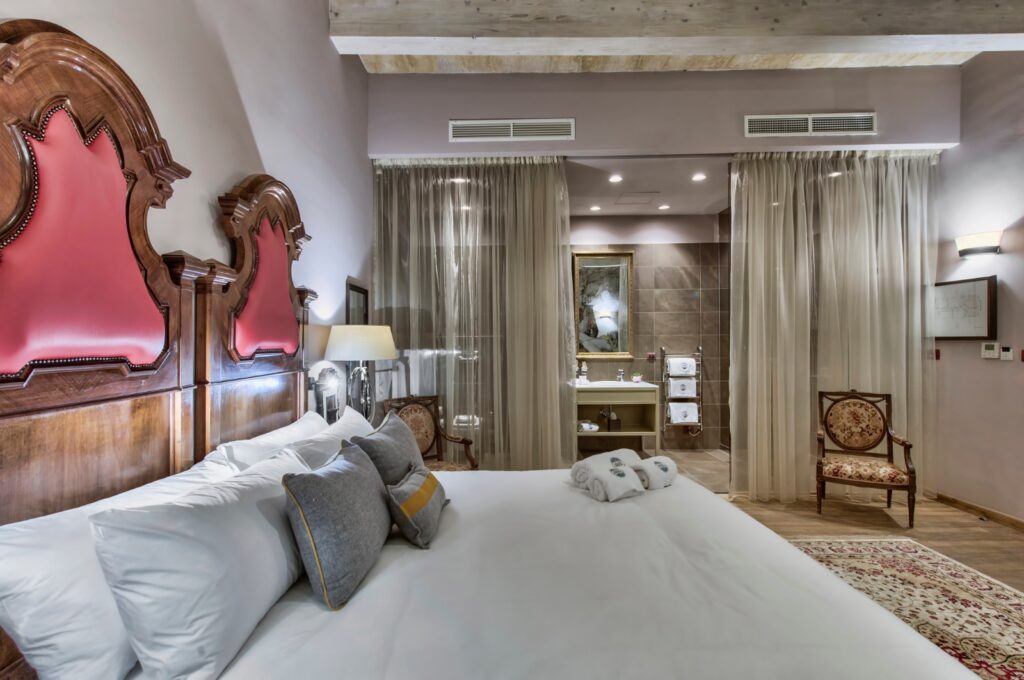 Religiosa is by far the most demure room at Palazzo Consiglia. The room is discreet in its beauty, with a plain choice of upholstery that provides a degree of modesty to this room. We have carefully selected a wide range of baroque and classical types of furniture pieces that evoke a calming and spiritual feeling. The simplicity in the choice of furnishing is used to contrast with the majestic choice of wallpaper in this room; a fresco style print with mythological and religious iconography that is both captivating and soothing.

- Deluxe Room with walk in shower
- Size 35m2
Guests staying in Retromoda can expect themselves to be transported back to the heydays of the good life. This room is warm and colourful, with gorgeous wallpaper and artwork that provide a vintage feel to it. The wallpaper selected for this room is truly retro, with solid stripes running along the wall that elongate the room, and circular patterns that perfectly balance the print's composition.

- Superior Room with walk in shower
- Size 29m2
Romantica has been designed as the ideal getaway room for a couple on holiday. This room offers a colourful selection of furniture and textiles, which gives a dreamy feel to the space. Guest can expect exotic tones in Romantica, as exemplified by the colourful wallpaper that gives this room a warm mood.

- Deluxe Room with walk in shower
- Size 35m2
Mediterranea is a room that is brimming with striking features that are reminiscent of the spirit of the Mediterranean. With magnificent furniture pieces one would except to find in opulent Mediterranean houses, this room is truly a majestic space. The rich wallpaper selected for this room is boisterous and lively, which is pattered with bold brush stroke that emulate the rich deep blue of the Mediterranean Seas and the bronze tones that are found in the coast.

- Deluxe Room with walk in shower
- Size 27m2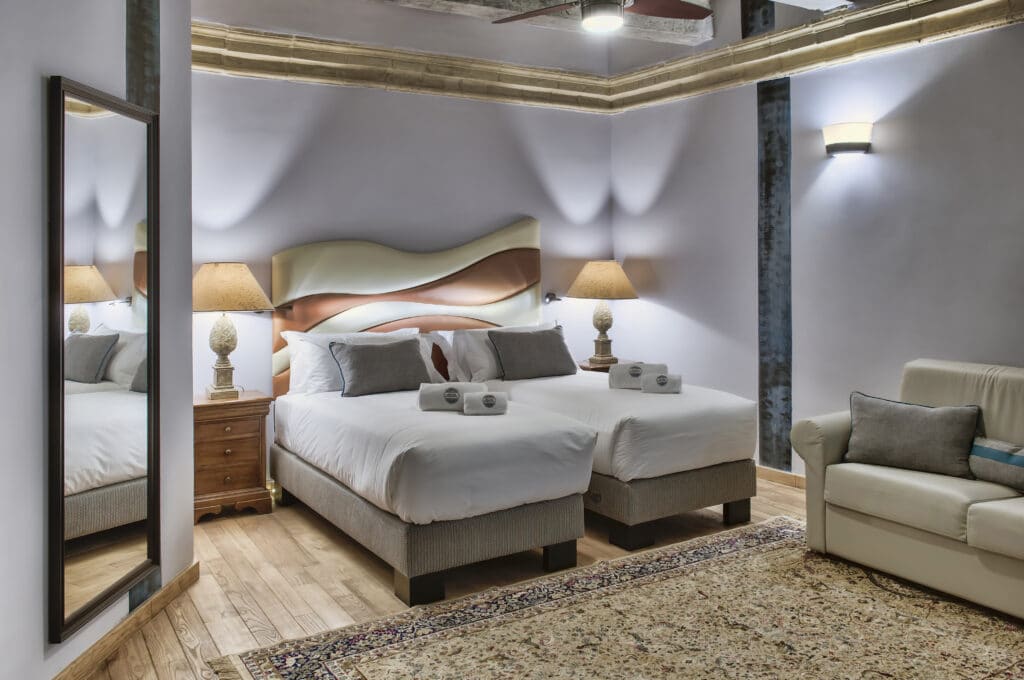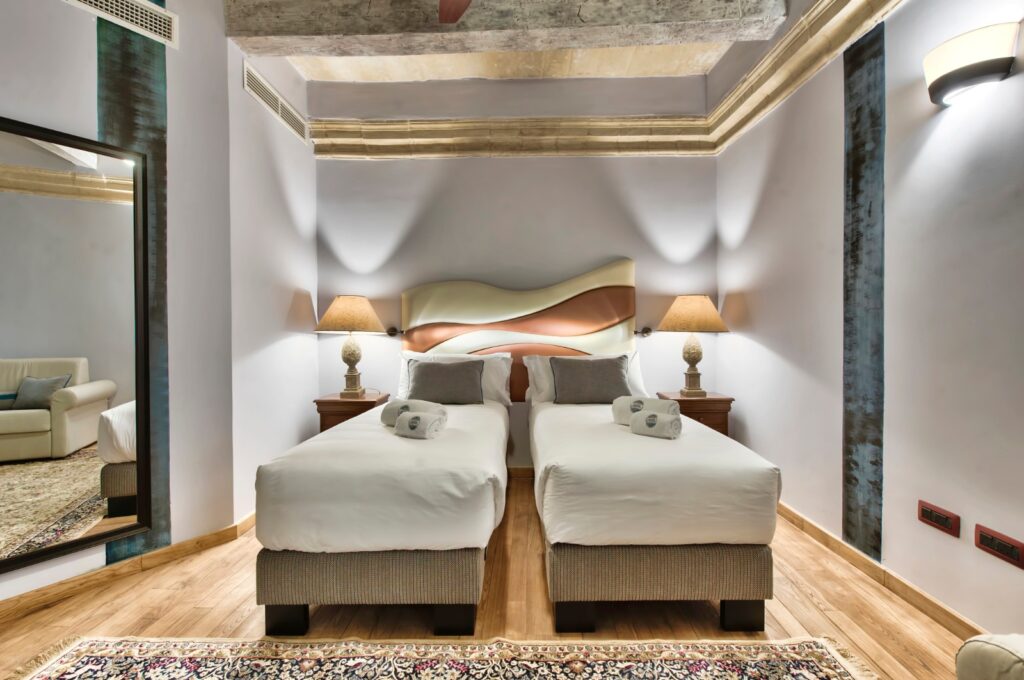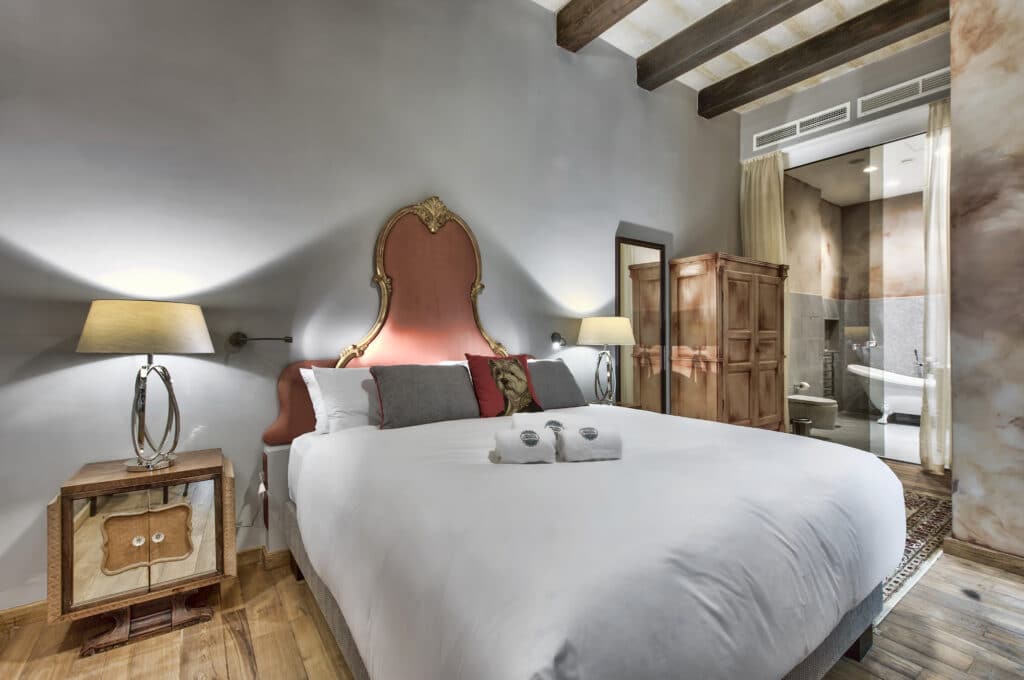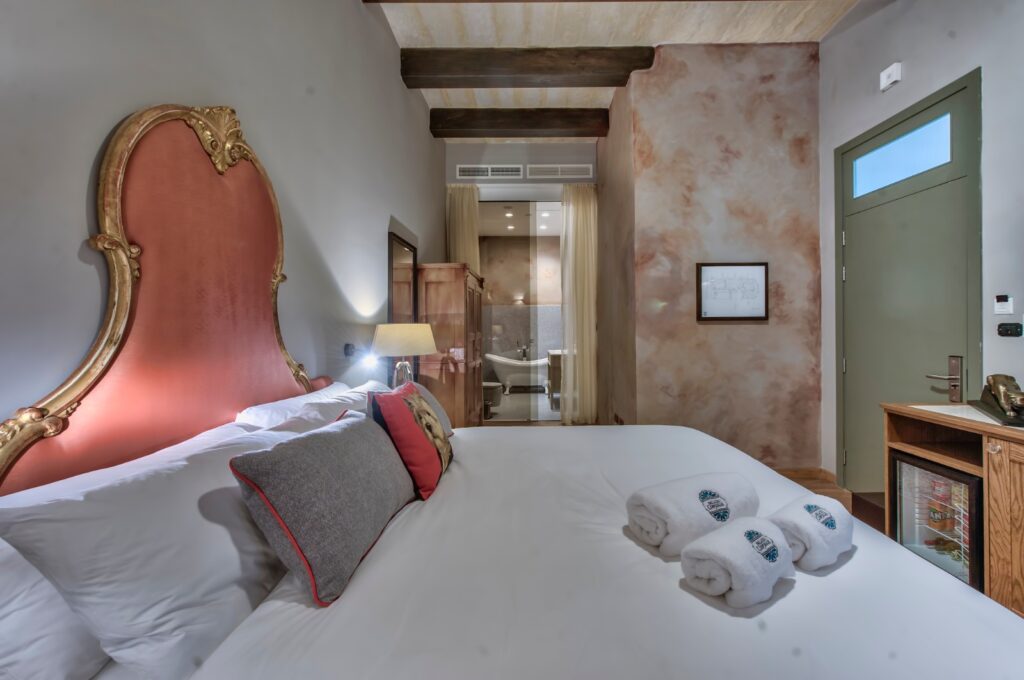 Amante has been carefully designed with a hint of passion and fervour. This room oozes with sultry hues and tones, and is accompanied by tasteful furniture that adds a certain je nais ce quoi. This room is styled with warm wallpaper tones that are balanced with minimally patterned upholstery and soft furnishings.

- Superior Room with bath
- Size 24m2
Viaggiatrice is considered to be the cosmopolitan room of Palazzo Consiglia that will suit the most avid globetrotter. Guest can expect a quirky mixture of pieces in this room, with carefully selected furniture pieces that have been thoughtfully combined to create a truly welcoming space. This room also contains eccentric blue wallpaper that is reminiscent of other great European Capitals such as Paris and Berlin.
- Superior Room with bath
- Size 24m2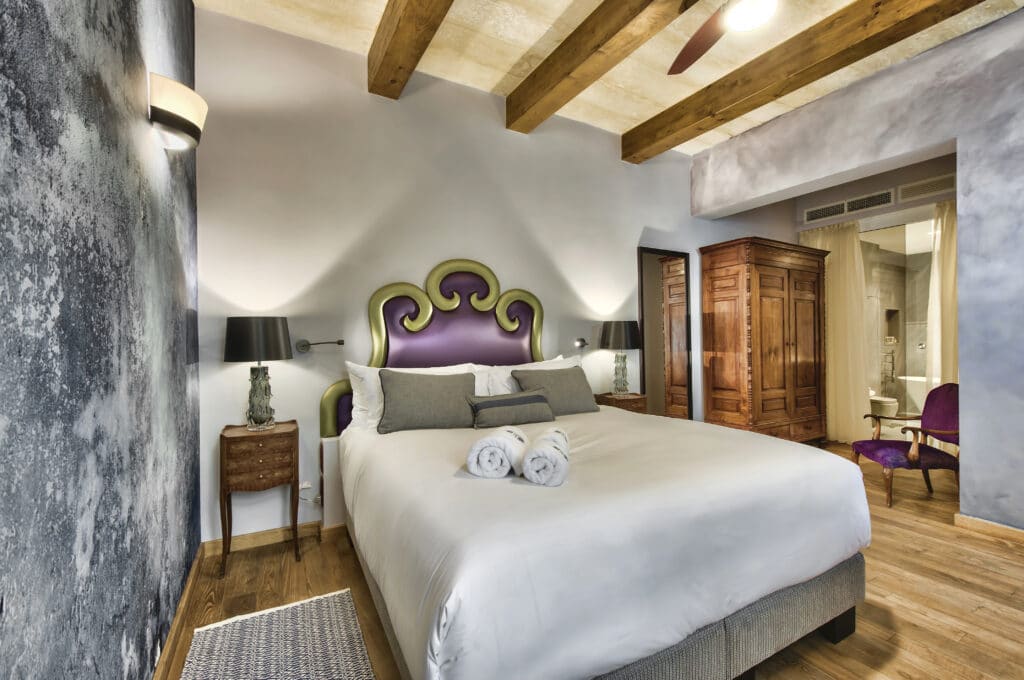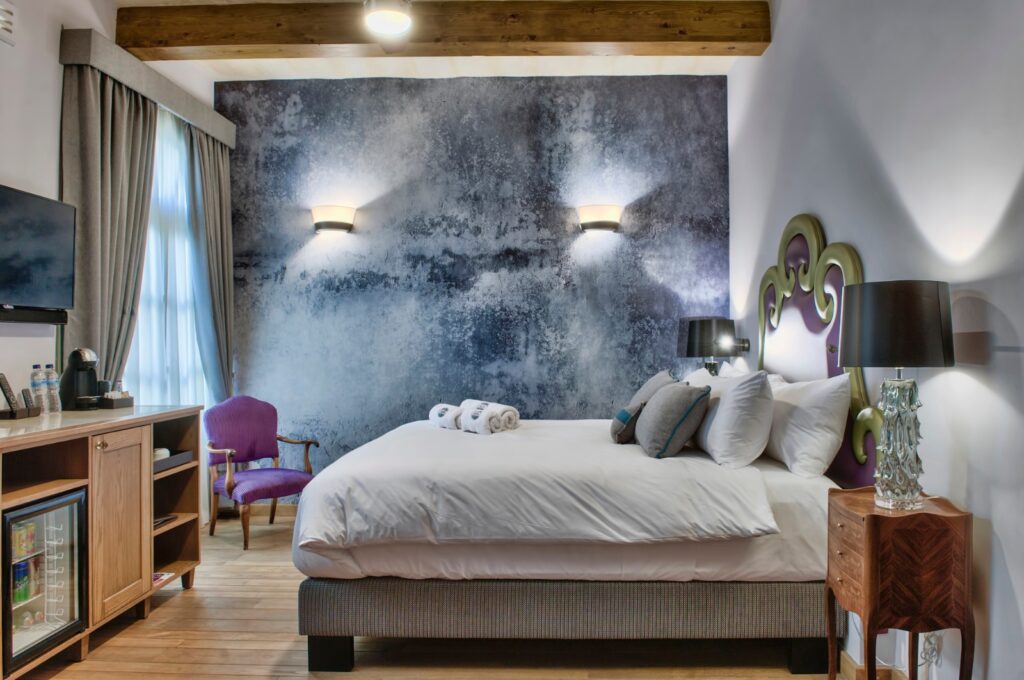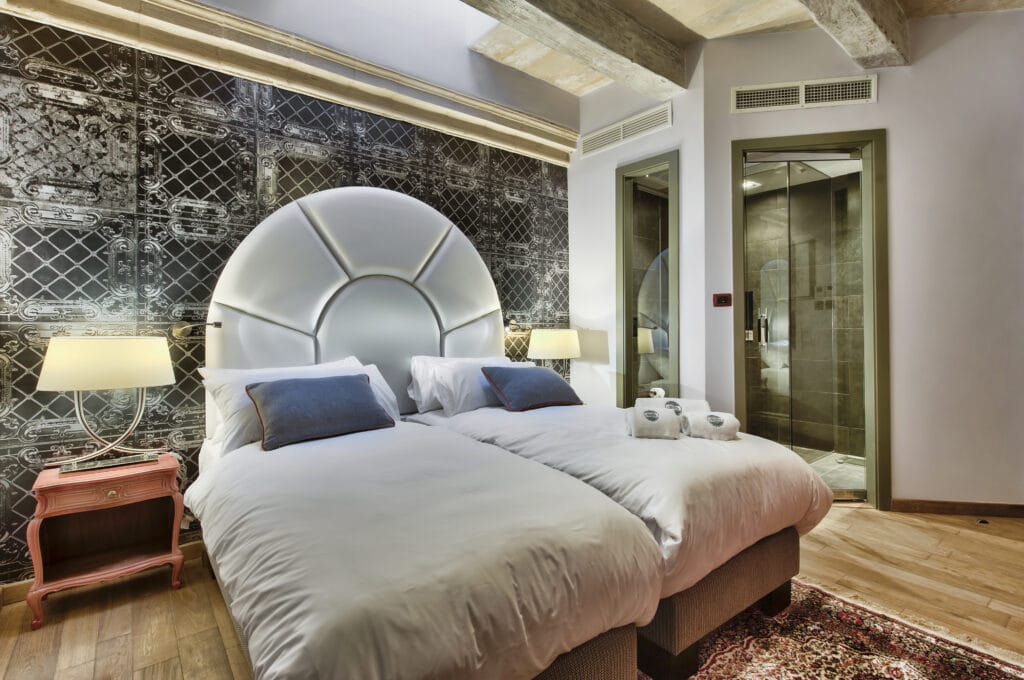 Industriale is a special guestroom that embodies the industrial period of the roaring twenties. This space is equally as modern as it is stylish, with period furniture pieces that are reminiscent of the silent movie era. Guest can expect a great selection of contemporary fixtures that are perfectly complemented by the chosen soft furnishings and textiles.

- Superior Room with walk in shower and skylight
- Size 20m2
Zingara was designed to contrast the richness that is found in Diva. With bohemian nuances, this room has a contemporary edge to its simplicity. Clients can expect to find an impeccable select of cool and hip furniture pieces that make for a quiet and calming stay. This room is brought to life with multi-patterned wallpaper, which emulates tiles commonly found in rural Spanish houses.

- Superior Room with walk in shower
- Size 27m2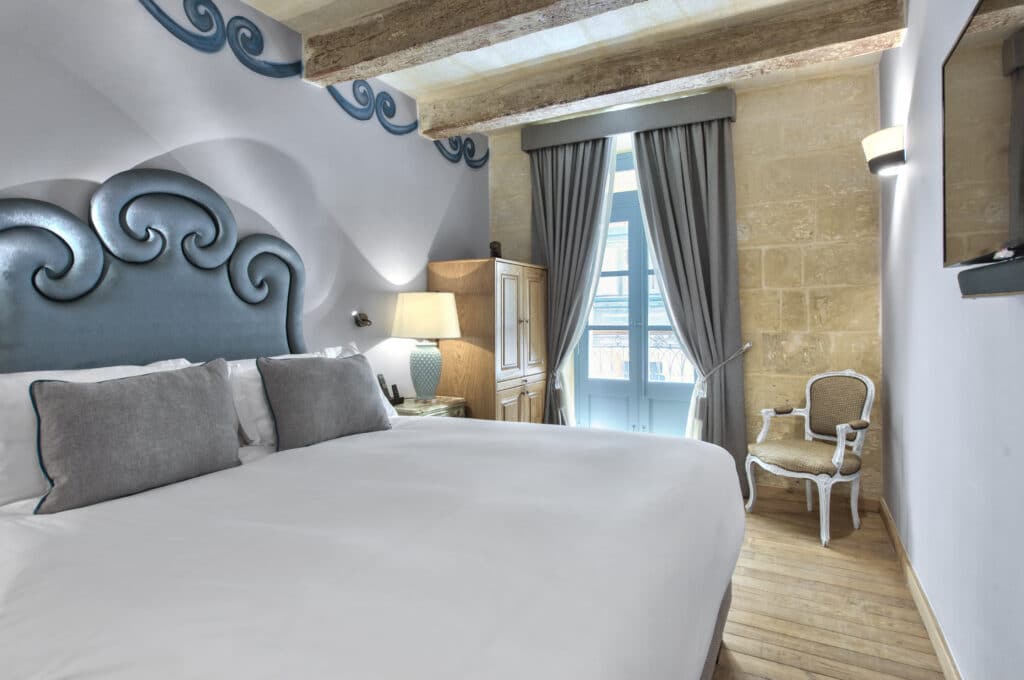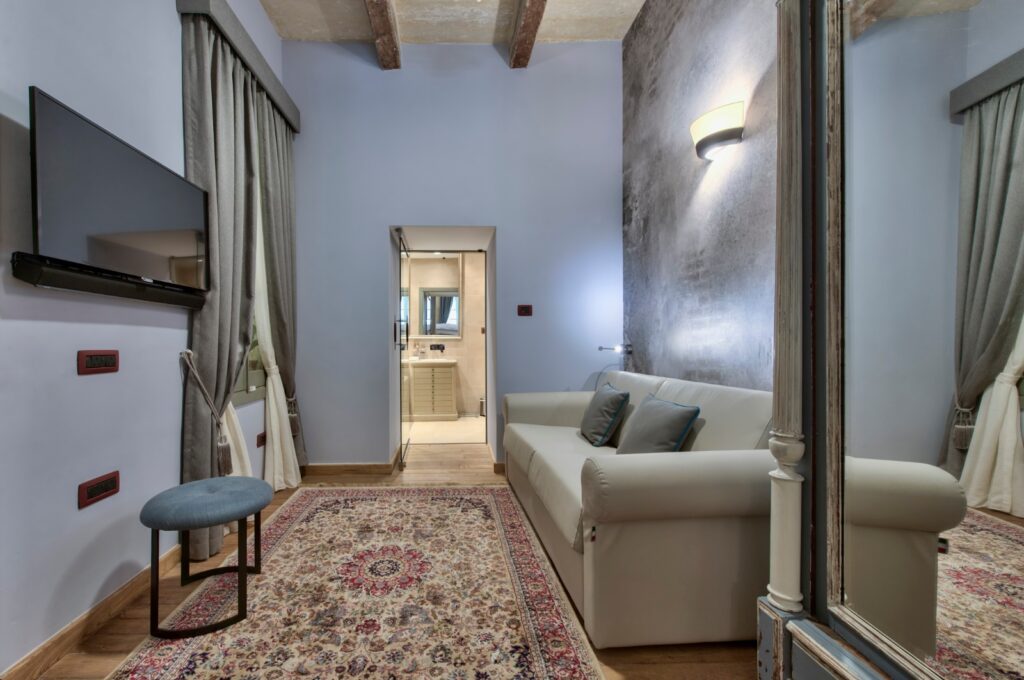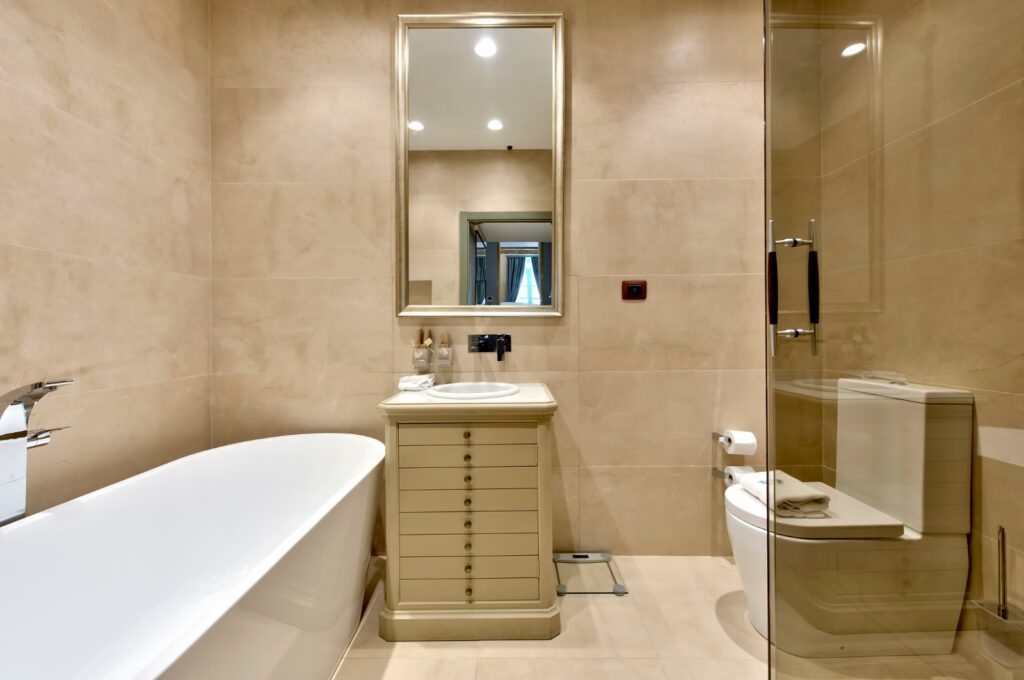 Sirena is a highlight of Palazzo Consiglia, as it perfectly encapsulates the fantasy and glamour that you would expect from a boutique hotel. Guests will immediately experience an enchanting feeling when they enter this room. With carefully selected pieces, Sirena is both charming and alluring.

- Deluxe Suite with walk in shower & bath
- Size 31m2
Diva is a luxurious room that showcases the elegance and opulence of early 20th century design. With decor that evokes onscreen legends such as Sophia Loren, Diva is furnished with sumptuous pieces that are framed by this room's prominent hardwood floors.

- Superior Room with bath
- Size 24m2
Guests staying at Palazzo Consiglia can choose from thirteen diverse guest rooms that each have a different character, each guest room is equipped with the latest technology and energy efficient LED lighting. A full HD 40-inch television, stocked minibar, telephone, e Concierge tablet, complimentary toiletries, daily linen change, turndown service and Bluetooth speakers which connect to the room's sound system.